Transform Your Mindset, Discover Life, Explore the World – That's my mission in life.
I'm Clarisse and I'm here to help you build a life following your passion.
I will present different ways to incorporate travel and exploration into your life.
Most importantly, you will learn to understand yourself and use it as leverage to achieve success.
Here is my story, from feeling lost trying to follow everyone's ideal life to discovering the journey I want to live:
The Early Years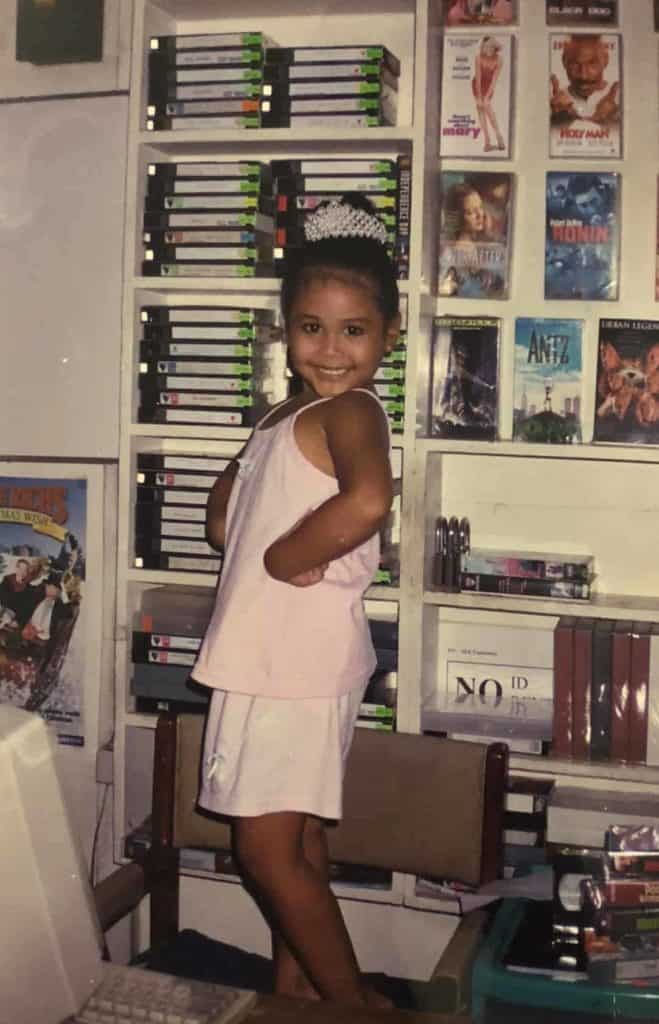 Welcome to the Philippines! Growing up in the Philippines for the first half of my life, I didn't know what it was like to travel.
We lived next to the international airport in Manila, and I could often hear the planes coming and going. I always wondered what it would be like to fly.
As a child, I thought that the planes that left the Philippines for other countries were actually located in the sky. You know because planes take off going up, and land going down.
I was oblivious to the traveling life or what it was like to have an extravagant lifestyle. But being surrounded by my family and friends were everything to me.
The Change I Didn't See Coming
For the first twelve years of my life, I had a normal life in the Philippines.
Then everything changed.
In a few months, my mom will be marrying someone in the United States. All I knew at the time is that we will be leaving soon to live in another country.
I didn't understand it at first. In fact, it took twelve more years to fully grasp what this meant for me.
I didn't want to go but my mom will not leave without me. So next came the goodbyes: goodbye to my friends, goodbye to my family, and goodbye to the country I grew up in.
The trip to the United States was the first plane ride I went on. Even though I felt pretty lost, I loved that I could see everything from above.
Adjusting to my life in America
Everything was new. I had a hard time adjusting to the life I was presented.
I spent the first two years in the United States crying through most of the night, wishing that I could have my family by my side.
It was hard to contact family back home as social media was still non-existent. Phones had a very unreliable connection or the ones that did were very expensive.
School was also a little hard to get used to and making friends didn't come very easily.
After a few years, I managed to get the hang of things and rebuild my life, at least as best as I could. But I still felt something was missing.
Don't get me wrong, my new family here took very good care of us. I will always be grateful for having them in my life, but I did miss my life in the Philippines.
I couldn't seem to find true happiness and I felt lost more days than not.
The First Person Who Changed Everything
It is an amazing feeling when you meet someone you know is meant to be in your life.
Enter one of my best friends for life, Julia, a foreign exchange student from Germany.
Julia opened my eyes to so many things. Her story of coming to the United States on her own to spend a full year without her family amazed me!
It changed my entire perspective and I knew then that there are a multitude of possibilities in life.
There are many ways to live our own adventure.
I listened to everything she had to say about her travels. I told myself that one day I will live a life that will be different from others.
The Travel Bug
My first travel adventure came right after high school graduation.
Julia and her family offered to take me in for the summer before my first year at university.
I was ecstatic! After I got there, they showed me around Germany, alongside a couple of European countries.
We ate German food, climbed to the top of the Eiffel tower, sat in cafes, and attended high school graduation.
That was the moment when I began to see the world. I knew then that there was a lot more to discover in life.
Following the Path
After coming home, I lost sight of what I had discovered in Germany. I went to university as planned and followed the path.
I went through the first two years of college not knowing what I was going to do with my degree afterward.
Even though I knew this, I still kept going as this was what everyone around me thought was best.
After college, like most people, I got an 8-5 job at a bank and worked there for the next three years.
For a recent graduate, the pay was decent but I was miserable. My days consisted of a daily total commute of 2-hours with traffic while dreading Mondays.
All this while only being able to enjoy myself during the weekend alongside a vacation package of only 10 days per year.
I know that I was pretty lucky to have the job that I did. I was building my resume, knowing that the company had great benefits and promoted from within. But I thought that there would have to be more in this life.
I couldn't bear the thought of doing this routine until retirement. I wanted to find a way to enjoy the life I'm living now.
The Lightbulb Moment
I was starting to obsess with the idea of traveling or living in another country. To be truthful, I wanted a break from the monotony of the current life I had.
Then the sign I needed popped into my laptop screen.
I still remember it to this day. I stumbled upon an article where somebody told their story of how they spent two years living in Australia as an American. I couldn't read that article fast enough.
I was ecstatic to know that there was a way out of the life I made here. It was a newfound hope that I could follow my own dreams instead of following what everyone else was doing.
Over the next year, the planning began. I researched everything I could on the Working Holiday Visa for Australia. I read every article there was and joined every Facebook group I could find.
There was something inside me that knew that my time in Australia would change my life. Little did I know how true that would turn out to be.
My Very First Solo Adventure
Before I left for my 1-year adventure to Australia, I decided I would take a week-long trip there to see if I would be able to handle traveling solo. I went to Australia not knowing what to expect.
The visit gave me the final push that I needed to know that Australia was where I was meant to be. During this trip, I had the chance to meet the 2nd person who changed my life.
Her name is Julia, a German backpacker who was there for her first year Working Holiday Visa. Yes, at this point it meant that I have 2 very amazing German best friends named Julia!
I will never forget the connection we made. But more than that, Julia became a big part of the domino effect that led to my life-changing adventures in Australia.
My Life-Changing Australian Adventure
I said my goodbyes to my family and friends in Texas and on April 17, 2018, I landed in Sydney. I met Julia for one week and knew that Sydney was not the place I would base my life in. I wanted to leave the city life and explore the natural wonders in Australia.
Not long after, I met someone during my travels that told me about Perth. I flew there and spent the next 4 months in one of the most beautiful parts of Australia.
I loved the vibe and I learned to relax and enjoy myself. I adopted their "no worries" lifestyle. Along the way, I met so many wonderful people that would continue to help shape my adventure.
Next, it was time to get my 2nd year in Australia. For this, I would have to fly up north and find a job to suit the visa requirements.
To make a long story short, I met someone (again!). This encounter led me to live in Alice Springs for the next 8 months, dealing table games at a casino!
It was the best job I've had and I made so many friends that I still have in my life to this day. As a bonus, the job qualified me for the 2nd year in Australia.
Why Was Australia so Important to Me?
Living in Australia taught me so many things! I couldn't imagine being the person I am now without that adventure.
Do you remember when I first told you that it took me another twelve years to figure out why I left the Philippines?
Traveling teaches you that every single person in your life is meant to be there. Every life-changing event that manifested during my adventure only existed because I talked to the stranger at the airport, or in my hostel, or on the bus going into the city.
I learned to be more confident, to be independent, and even to find a job without any previous experience in that field. It opened up many possibilities for my life there.
I learned to say yes to many new things. I learned to hike, enjoy the moment, and to take in all the beautiful sceneries in this world!
I learned how to spend less and fit all my belongings in a suitcase. I came to trust and rely on the kindness of the people around me and to return the favor when I can.
There are so many people willing to help you out in this world. I knew that I wanted to keep this lifestyle going.
What's Next?
To keep the traveling lifestyle, I knew that one of the ways is to have my own business. I always dreamed of becoming my own boss, but now the desire was so much stronger.
During my time in Alice Springs, I decided that I would create a casino events business.
I knew that I enjoyed my job and I had fun playing table games at the casino. I wanted to share this excitement without having to gamble real money.
I started the planning process and moved closer to Vegas within the next year. I wanted to keep dealing so that I could learn new games and finish organizing my new business venture.
All was going to plan, at least until the 2020 pandemic happened. That's the thing with plans, you have to be flexible.
I understood that this was a redirection. As I won't be able to start an events business until at least 2021, I shifted my focus into a different venture.
I decided that I wanted to share my life with others and hope that I can serve as the Julia in your life. I want to share the journey that I took and spread my message with the world.
I want to build a community, and help you achieve your goals and dreams in your own lives.
I want you to live a lifestyle that you'll be proud of. To help establish a "no worries" mindset, and create a life that will allow you to explore the world.
I hope that after visiting my blog, you'll be able to take the leap and choose to live a life that's off the beaten path!
Thank you!
If you made it reading this far, I want to say thank you for being here with me.
If you need any guidance, have any questions, or want to share your visions and goals, sign up for the e-mail list below. I'll be more than happy to have a conversation.
Check out this article on How to Spend Time with Yourself to help you get started on your redirected journey in life.
I am happy to have you here and I can't wait to see where this takes us.